Silicon Valley-Based Accelerator Sets Up Shop in San Diego
San Diego Business Journal
October 31, 2016

SDWP co-hosts annual County Economic Roundtable at USD
Workforce.org
January 2016
Video Link at: https://youtu.be/ArG2ODTUvhw?t=7142
7 Women Who Inspire Us to Set Audacious Goals
HuffingtonPost
December 29, 2015
Keynote Speech at Female Entrepreneur Conference
Hautepreneurs #HauteCon2015 – Albuquerque, New Mexico
November 4, 2015
"Respect Matters"
http://www.sandiegouniontribune.com/news/2015/nov/13/black-lives-matter-racism/
By Steve Dow – Nov. 13, 2015
"Nine biotech startups unveiled at incubator showcase hosted by the City of Carlsbad / Bio, Tech & Beyond"
Telemundo – filmed at Thermo Fisher, Carlsbad, CA
Oct. 30, 2015
StartupGrind Features Gabriela Dow
https://www.startupgrind.com/events/details/startup-grind-san-diego-presents-gabriela-dow-plug-play
October 8, 2015
"Water Reuse Media Tips"
Presentation for the Water Reliability Coalition and Metro Wastewater JPA
San Diego, CA
July 1, 2015
"On Strong Women and who wears the pants"
San Diego Union Tribune
By Steve Dow  – May 9, 2015
"San Diego's Innovation Economy"
Presentation for the City of San Diego Small Business Advisory Board
Downtown San Diego Central Library
April 17, 2015
San Diego's Innovation Economy

"Connecting Tech and Government"
http://www.utsandiego.com/news/2015/feb/23/qa-gabriela-dow-technology-government/
UT San Diego Business Section Q&A
Feb. 23, 2015
"San Diego Startups"
http://t.co/JZs8pyCdkn
31st Annual San Diego Economic Roundtable
University of San Diego
Watch the Video – Gabriela is at 1:59
Jan. 16, 2014

UT San Diego
"Where San Diego Startups Pitch for the Big Leagues"
Oct. 24, 2014
Parks & Rec Business Magazine
"A Star-Studded Lineup"
June 2014
Important case study on a local government operating a 100% cost recovery facilities plan supported by a city council that empowered its public employees with entrepreneurship principles and abilities via revised municipal ordinance. Also just an awesome $40 million park!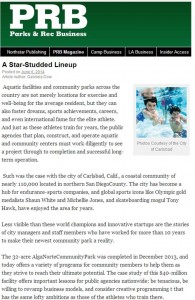 UT San Diego
"San Diego Deserves Ranking as top city for launching startups"
By Gabriela Dow – April 16, 2014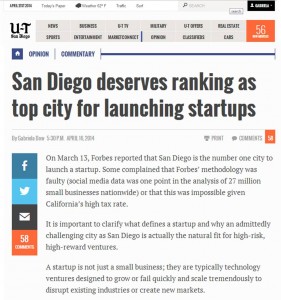 San Diego Business Journal
"Plug and Play Accelerator Seeking Brick-and-Mortar Site" 
March 3-9, 2014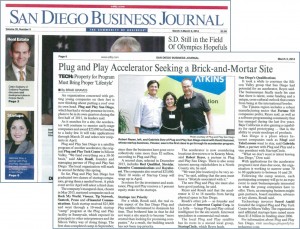 UT San Diego
"San Diego Ranks 13th for Female Entrepreneurs"
Feb. 23, 2014
Voice of San Diego 
"San Diego Startups Could Use Local Kickstarting"
Feb. 7, 2014
U-T San Diego
"9 People to Watch in 2014"  (full article online)
Article photo
PDF Clip: "People to Watch 2014"
Jan. 12, 2014

San Diego Magazine
"People to Watch: Donna Frye"  – honored to be named as a person to watch
Jan. 2014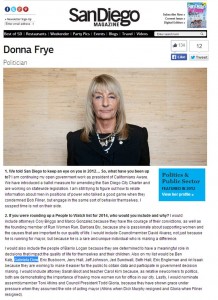 Future Proofing Cities event and video for Atkins Global
September 2013
U-T San Diego
"Facing Risks, Challenges of Future Growth" – by Gabriela Dow
Oct. 9, 2013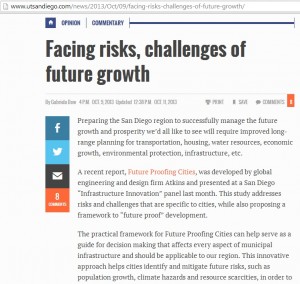 Following the Sept. 9, 2013 "Infrastructure Innovation" panel event created for Atkins Global.
Click here to see photos from this event if you are logged into Facebook.
San Diego Daily Transcript
"Crowdfunding Changes Expected to be Revolutionary"
SDDT Article PDF
Nov. 22, 2013

American City & County
"Launching the World's Largest Biotech Incubator"
Sept. 19, 2013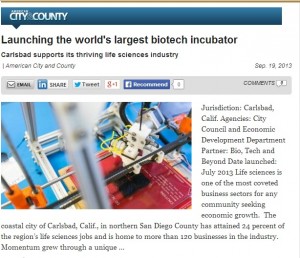 Xconomy
"Plug and Play Offers San Diego Startups a Bridge to Silicon Valley"
Nov. 6, 2013

California Forward
"Thinking About Government 2.0"
March 23, 2013
SD Tech Scene
"Startup Class Kicks Off"
Feb. 15, 2013
UT San Diego
"Pros Teach Middle Schoolers About Startups"
Feb. 25, 2013
IVN
"State of San Diego Startups"
Nov. 16, 2012

Performance Magazine
"How to Save Time and Money in Government Transactions"
August 2009

San Diego Union Tribune
"Making Government Available Online"
Written by Gabriela Dow on behalf of GovPartner CEO and City CIO
April 2001*
*No, that is not a typo … I have been writing about modernizing government through technology since 2000 😉